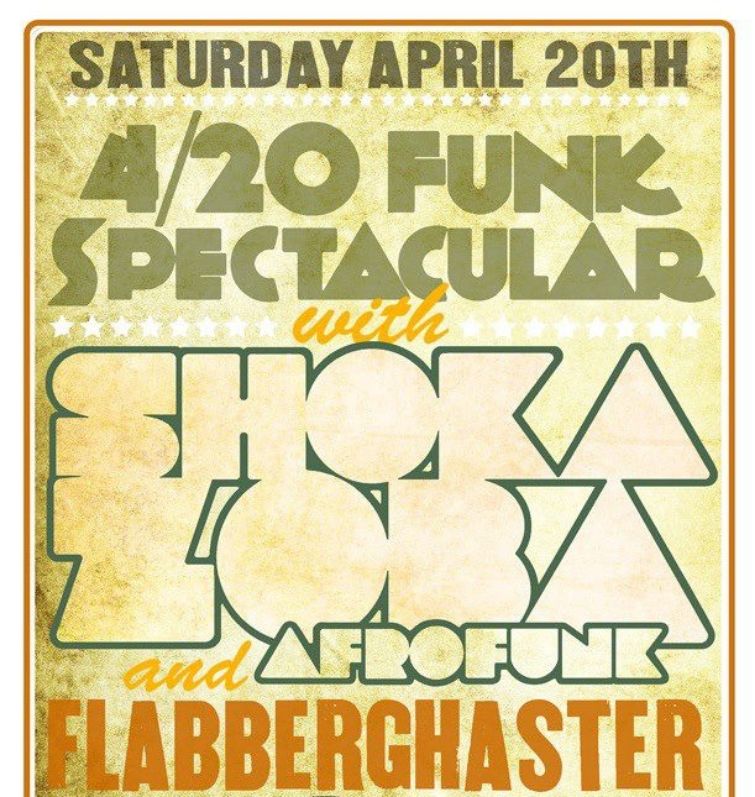 Shokazoba returns to our stage once again! This time they are rollin' with the high-octane/deep-impact funk outfit from Vermont, Flabberghaster. There'll be four alternating high-energy sets, feeding the dance party all night long. What better way to celebrate our cannabis freedom in "Grassachusetts" then funking away the night with these sweet bands?? Exactly....so, COME DANCE!!
Flabberghaster
- Emerging from deep in the rolling hills of Southern Vermont, Flabberghaster is taking listeners on a serious sonic adventure. In 2010 Flabberghaster started tearing up clubs, music halls, house parties, and festivals. The band began to make a name for themselves in 2011 when they independently released their first full length album "Like Like Lightning", recorded and produced by Grammy Award Winner Billy Shaw. Moving full speed ahead into 2013, Flabberghaster continues to cover more and more ground, performing from Maine all the way to Pennsylvania, and everywhere in between.
https://www.facebook.com/flabberghaster
Shokazoba
- "For the past eight years, a strange sound has been emanating from various venues in the Pioneer Valley that defies definitive description. Many listeners, upon their first encounter with such an unusual beat, become entranced by the swirling rhythms and find themselves dancing all night long. It features guitars, keyboard, drums, trombone, trumpet, saxophones, congas and super-charged politically-conscious lyrics. The name of this sound is Afro-beat, and no one in Western Massachusetts plays it better than Shokazoba. ...Their 2011 release "Congress For Sale" has been critically acclaimed on an international stage, and they are gearing up for a brand new 2013 recording in an attempt to take Afrofunk where it has never been before..."
http://www.facebook.com/shokazoba
21+ / 9:30 / $5.00