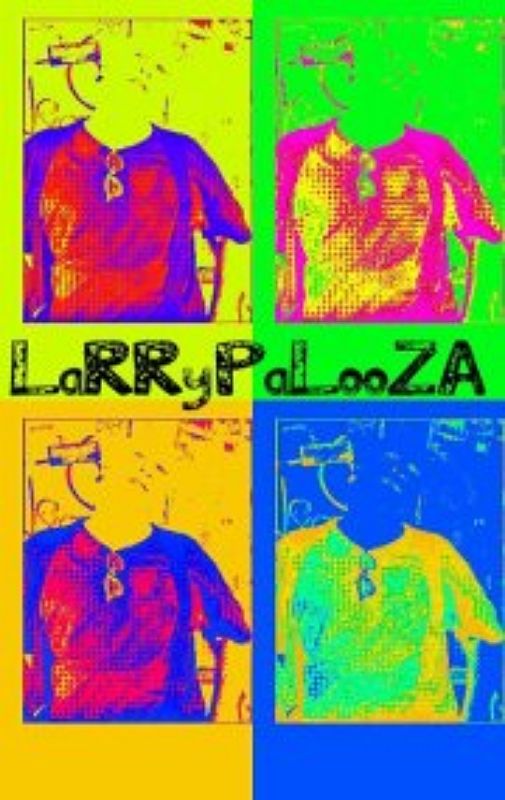 Hello there....buckle up for an amazing good time tonight as we prepare for the festivities of:
LARRYPALOOZA
!! This show is a benefit for
"Dancing Larry"
....but who's Dancing Larry you ask? That can be explained in many ways, by many people, and with much love.....I'll share my first exposure to the man they call Dancing Larry.
A few years ago, as my band was in the new-ish stages of rocking, we were psyched about starting to perform more frequently in the Easthampton/Northampton area. We booked a gig at the Brass Cat in Easthampton, and the show meant a lot to us. It came time for our set, and we had a solid crowd of fans, friends and regular patrons in the house ready to party. But everyone was kind of hanging back, leaving the immediate area near the stage vacant, despite the crowd in attendance. For any of you that know the Brass Cat, that can be kind of "uncomfortable" when you're about to put your music on display for the world, considering that the stage is almost on ground level, kind of in a corner. You'd rather that everyone be right up there, near the stage, rocking with you....well, we start the show "as-is" and all of a sudden there's this bald dude doing these herky-jerky-dance moves right in front of the stage! I'll admit, I was mostly amused at first. Then, I witnessed Larry's 'magic'. Because of his un-self-conscious dancing right near the stage, most of the crowd filtered up to where he was --and where WE were-- the stage. Larry bridged the gap between band and fans without even trying! HE led the way.....And it was easy to tell that he wasn't dancing for attention or any type of status. He was dancing because he loved it, and he loved the live music that was making him dance!! For those of you not in a band or a performing artist role, this may not seem incredibly special --but it sure is special to the performers. From there, I got to enjoy many more times of Larry's dancing, and it was always a warm feeling to see him.
See, in a world where many people are just taking care of themselves, doing more taking than giving, and often-times just generally not being "involved",
Larry Howes
(that's Dancing Larry for those who don't know) has done a
TON
of giving, and in the process, shattered that aforementioned mold for
SO MANY PEOPLE
. Many folks have so many great memories with Dancing Larry, because he's truly a unique "giver" in this world of ours, and it makes us especially happy to be celebrating a man who has so unselfishly supported our music community!
Well, now Larry needs a bit of assistance from us. Some medical procedures have left him with some big medical bills and we intend to do our part to knock those bills out of the park, TONIGHT!
This night is going to be one to remember. And there will be food, a "Dancing Larry" drink, a special guest (TBA) and of course,
AN ABSOLUTELY AMAZING ARRAY OF PERFORMERS:
7:00 Jim Joe's Sixty-One Ramblers
7:25 Pruf
7:50 The Remones
8:15 The Howards
8:40 Dennis Most
9:05 Donut Kings
9:30 Gimlet Slip
9:55 No Intention
10:25 The Prozacs
10:55 Creepin' Cadavers
11:25 The Uncomfortables
12:00 Angry Johnny & the Killbillies
12:40 Steve Westfield Slow Band

That there is your probable lineup for performances....please visit:
http://www.facebook.com/events/265852813543438/314583512003701/?ref=notif&notif_t=plan_mall_activity
to see more about how our community loves Larry! And get yer ass here tonight to do some dancing!!!
21+ // Doors @ 6:00pm // $10 ticket donation at the door (these are extremely limited, get here early to get in!)