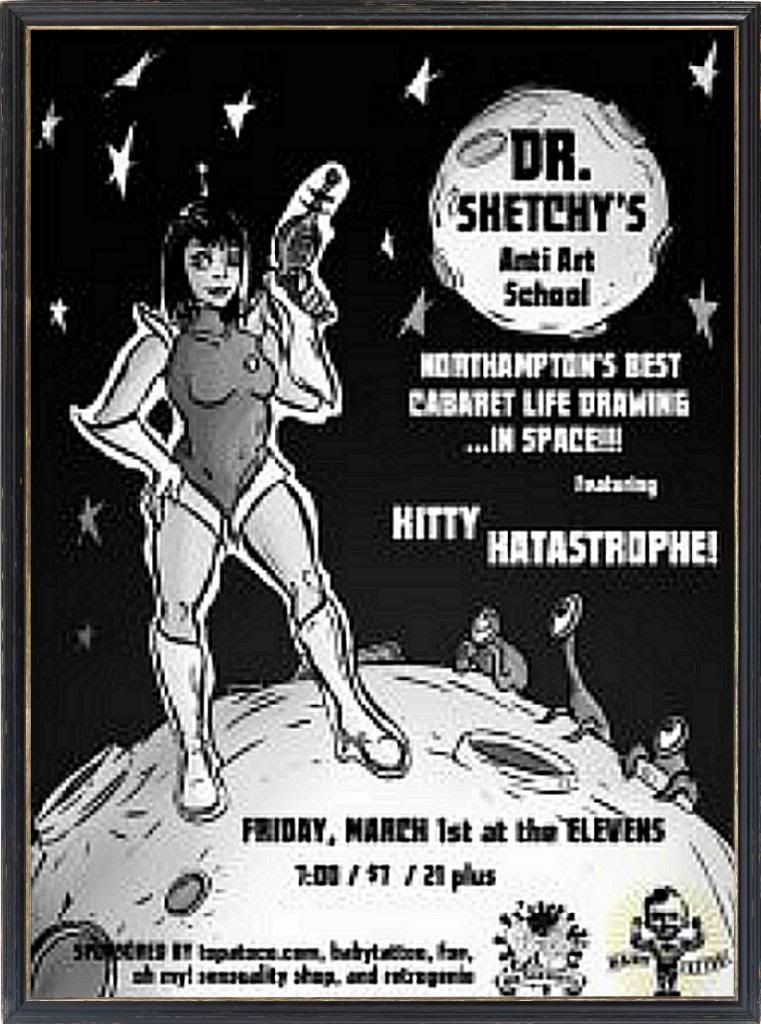 Hello. Tonight is our first-Friday humdinger of a show. That's right....It's a two part event where you can first: sketch scantily-clad models posing in accordance to a pre-determined, and fun, theme. That's Dr. Sketchy's.....ooooooh yeah, it's fun. Then, when that awesome time runs it's course, the most excellent dance party, Electric Avenue takes hold of the parts of your soul that encourage: dancing, fun, partying and more fun. See ya!
Dr. Sketchy's:
On Friday, March 1st, The Elevens (140 Pleasant St) in Northampton is blasting off on an exciting mission to get you better at drawing, and also drunk- that's right, we're going to space, and bringing all the sexy drawing, art contests, prizes, and debauchery with us to make contact with alien life!
Kitty Katastrophe joins us from the Burlesque Quadrant of Planet New Haven-5 in the Connecticut Galaxy to model and bring us a burlesque act so fantastically awesome, it can't legally be performed anywhere on Earth!
Your Captains Clyde Dale and Mistress Fleshette bring you the music for your trip, host the evenings festivities, and keep the stage lookin' great.
Doors at 7:00, and lift-off at 7:30
21+
$7 due to the rising cost of rocket fuel
We land back in cozy Western Mass at 10:00, just in time for our favorite DJs Dan and George to spin 80's records just for you, in Electric Avenue!
ELECTRIC AVENUE:
(Here's the basics)
First Friday of every month we be throwin down strictly 80s jams in a fun frenzy!
Video projections all night of wild stuff from the Media Mansion vaults...neon dreams, dancefloor maniacs...
The funnest time there is.
21+ $1 cover
Immediately following Dr. Sketchy's
See ya