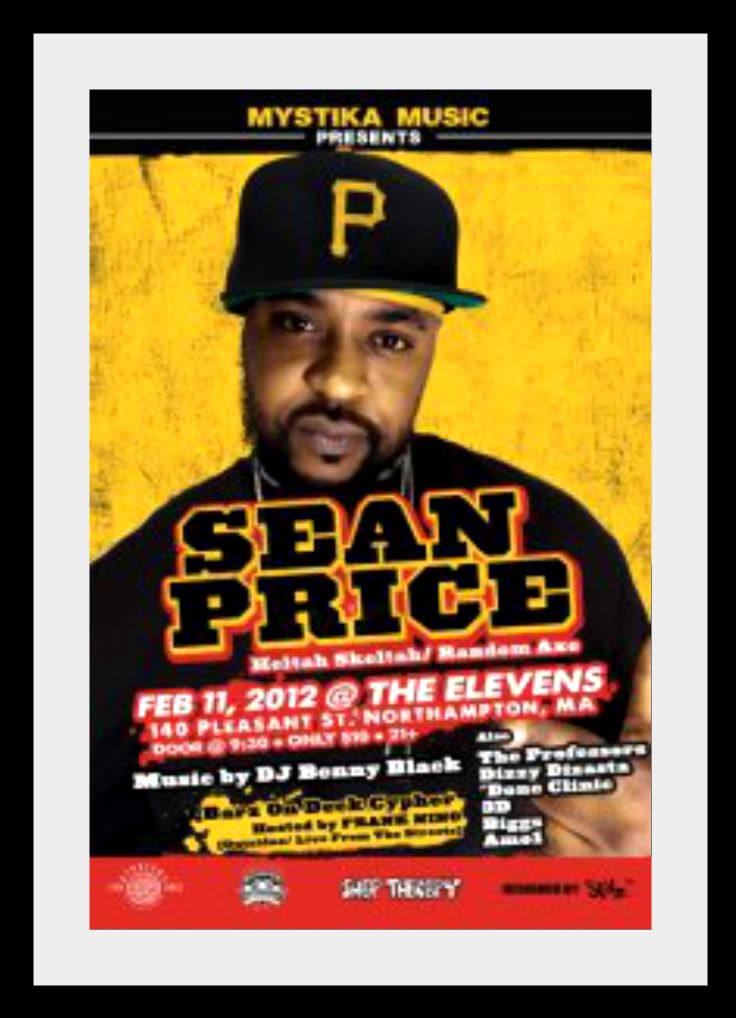 Mystika Music is proud to bring Hip Hop legend SEAN PRICE to Northampton!!!
ALSO FEATURING:
The Professors
Dizzy Dizasta
'Done Clinic
AMO 1
3D
Biggs
With DJ Benny Black on the tables, & a live cypher featuring some of the 413s best MCs, filmed by BARS ON DECK
FEATURING... Trouble T, Blaksmif, Machete Mokeout, Ron Artist, Combak, T Remmedy, Roc Foxx, & Chekk
This Show is sponsored by BANG BANG BODY ARTS, STRAIGHT PATH JEWELZ, & SHOP THERAPY.
http://www.facebook.com/bangbangbodyarts
http://www.facebook.com/SHOPNOHO
https://yrsgear.com/gear/
WHO'S SEAN PRICE???
Along with his partner Rock, Sean Price (aka Ruck) dropped three impressive LP's as the duo Heltah Skeltah. Sean is also a core member of the legendary Boot Camp Clik collective and has been a stand out contributor to all three of their collaborative releases.
Sean proved he was more then up to the task as a solo-artist as well, as he contributed one of 2005's most talked about LP's with his solo debut 'Monkey Barz', which was followed by several succesful mixtapes & his 2nd solo album, Jesus Price Supastar.
In 2009 Sean Price teamed up with Guilty Simpson and Black Milk to create Random Axe. They released their self-titled debut, 'Random Axe' June 2011. The album was critically acclaimed and well recieved by fans for its hard hitting production provided by Black Milk and fierce, witty rhymes provided by Sean Price and Guilty Simpson.
Despite releasing two group albums in the last two years fans are still highly anticipating a solo Sean Price album. But Sean Price has stated that he's taking his time with his next work, 'Mic Tyson' and wants the world to be ready first. 'Mic Tyson' is tentatively set for a early 2012 release...
9pm
$10
21+
Facebook:
http://www.facebook.com/events/221108444630095/