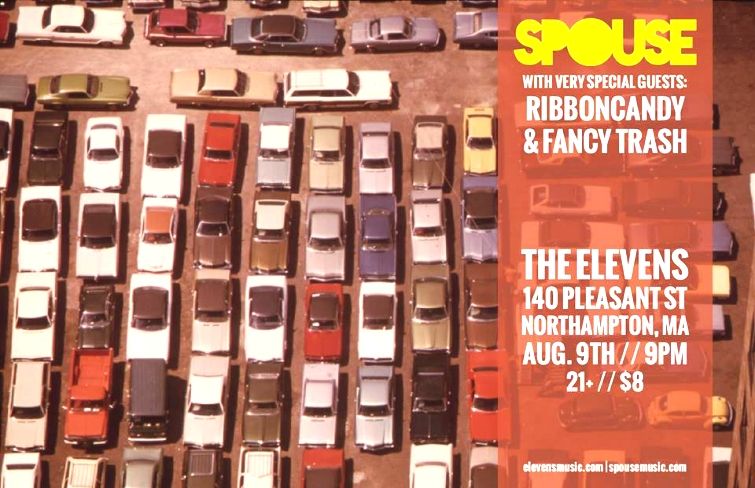 You know
SPOUSE
! --but in case you don't and/or you need a refresher. Please read below (and come here tonight for this special appearance!!)
"Spouse's Jose Ayerve has long been a wanderer, touring extensively and, even at his most rooted, bi-locating himself in two states. Though he's a bit older and wiser now, he's nonetheless formulated what most people might call an odd recipe for "settling down." Still spotted occasionally in the Valley, he also recently spent two weeks exploring in Ecuador with his mother, and currently lives in Hawaii, where he telecommutes to his job as a translator for the Springfield Public Schools. In addition, he still maintains an apartment and recording studio in Portland, Maine, and, though that seems like a lot of places to be, Ayerve hopes that these "homes" will settle into something like a predictable rotation.
"We'll see how it goes," he says. "I'm hoping I can make it work. It's nice to finally have a routine. I've never had a routine."
Routine or dynamic, Ayerve credits his work ethic for both the sustainability of his life and craft and, at least occasionally, inspiration.
"I work a lot. The only way I can afford my life now is if I work all the time—and I'm fortunate that I have the work to do. But—so, when I get creative, it's when I'm reacting to a stress, or to some event in my life. I'm a reactive writer; it's always been sort of like therapy.
"I grew up in a household that wasn't particularly supportive of my musical endeavors, so that kind of fueled a little bit of a rebellion, made me feel isolated and unsupported... but after a certain point you have to grow up. You have to realize that it's on you, that you have to make the most of your musical career, of your choices. But now I feel like I'm finally enjoying music again; I've freed myself of the pressure of having to 'make it,' or whatever that means anymore."
Spouse, Ayerve's longest-lived musical baby (formed in 1995), hasn't played for a few years, and he cites the cost of moving a whole band around as the main reason for this; "These guys are older now, too," he says, "and no one wants to sleep on the floor of a van anymore."
Mostly, he now tours alone as A Severe Joy, his machine-backed solo act that he calls both "performance art" and his "interpretation of dance music." He also serves as an engineer or producer on other artists' projects, including new CDs by Lo Fine and Peyton Pinkerton.
"Most of my collaborating these days is limited to engineering and a little bit of production and arranging," he explains, "and I like that role, because whenever I get involved in a project, I tend to oversaturate it with all my invested emotion and energy. Now I back off and try to preserve the original intention of the actual artist that I'm working for or working with."
Regardless of what direction Ayerve's life takes him—musically or otherwise—he's still excited to perform at an upcoming Spouse reunion in Northampton. The current manifestation of the band is a trio that includes Ken Maiuri and J.J. O'Connell. O'Connell, for his part, has been curating live Spouse recordings that they hope will be available at the show as a limited edition CD.
"It's been a couple years since I've played with a full band," Ayerve says with a nervous laugh. "I hope I've got the chops!"•
--
Valley Advocate, 2013
And as if getting to enjoy Spouse reuniting / rocking for
one
show wasn't enough, we also get to enjoy Fancy Trash & Ribboncandy tonight!! Two amazing bands full of fantastic local (and regionally-known) hero musicians! **whew** (gonna be f*cking
AWESOME!!!
)
Fancy Trash
-
http://fancytrash.bandcamp.com/
Ribboncandy
-
http://www.last.fm/music/Ribboncandy?v=control&utm_expid=44142428-15.uxR-C0rwSuKQIKnffD_JVg.1
21+ / $8 / 9pm