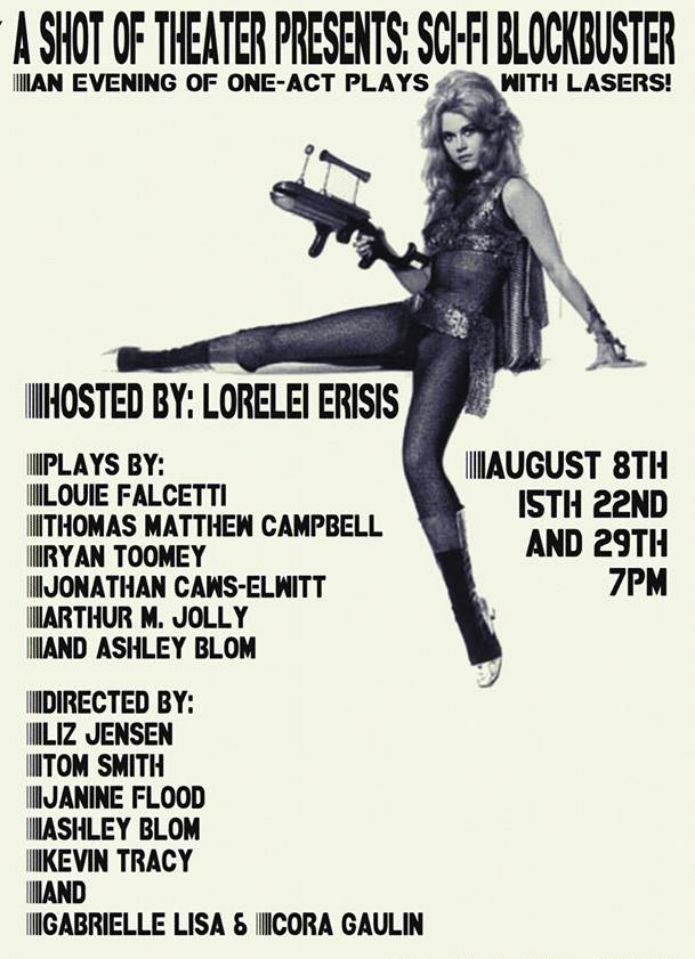 Well folks....it's time to enjoy some theater once again!
A Shot of Theater
will be presenting
"Sci-Fi Blockbuster"
tonight ONLY, (oh okay...and again on 08/29!!) ...If you haven't experienced these one-act plays yet, do yourself a favor and come enjoy !!
"Attention People of Earth!
Join us for the journey of our third show of original and locally written one-act plays performed at The Elevens (-Forward).
An evening of theater, drinks, food, and LASERS!
This epic event will be hosted by the cosmically beautiful Lorelei Erisis, who will certainly set your engines to Warp Speed!
Don't miss this or we will conquer your puny planet!
If you would like to reserve a VIP table for any of the shows at an additional $5 per table (minimum two per table, maximum four), then please email us with the date that you wish to attend @
AShotofTheater@yahoo.com"
With Plays Written By
:
Thomas Matthew Campbell
Jonathan Caws-Elwitt
Louie Falcetti
Ryan Toomey
Arthur M Jolly
and Ashley Blom
And Directed By
:
Tom Smith
Ashley Blom
Liz Jensen
Janine Flood
Kevin Smith
and Gabrielle Lisa& Cora Gaulin
21+ / $7 / 6:30pm (doors)