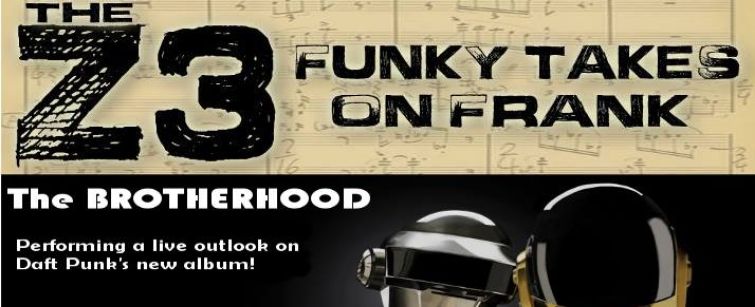 Hello there.....We'll just go ahead assume you like fun? And hence, we'll simply state:
YOU NEED TO BE HERE TONIGHT!!
--yeah you do....because when you have amazing musicians filling the stage with renditions of Frank Zappa music, and Daft Punk music, combined with our scintillatingly-cool atmosphere, you just can't lose!
The Z3
is off to play Zappanale Festival - "Don't accept any substitute !" in Germany but first they will perform their festival set in its unmitigated entirety for YOU right here in Northampton, MA.
Come catch
Beau Sasser
(keys / vox),
Tim Palmieri
(guitar / vox) and
Bill Carbone
(drums / vox) doing their Funky Takes of Frank (TM) one last time in this land of the free before they depart to Deutschland for an entire week (gasp!)
Opening the festivities shall be
The Brotherhood
, a side project of
Nate Jacques
(bass) and
Chris O'Connell
(keys) of EatUrAura with
Killian Karlsson
(guitar) of Mammal Dap & Jamie Kent and the Options,
Jessie Casinghino
on drums, and
Anders Warringer
on vocals. They will be performing a whole set of Daft Punk's new album!
Funky Zappa and Disco Daft double hitter will certainly be a special treat!
21+ / $5.oo / 9:30