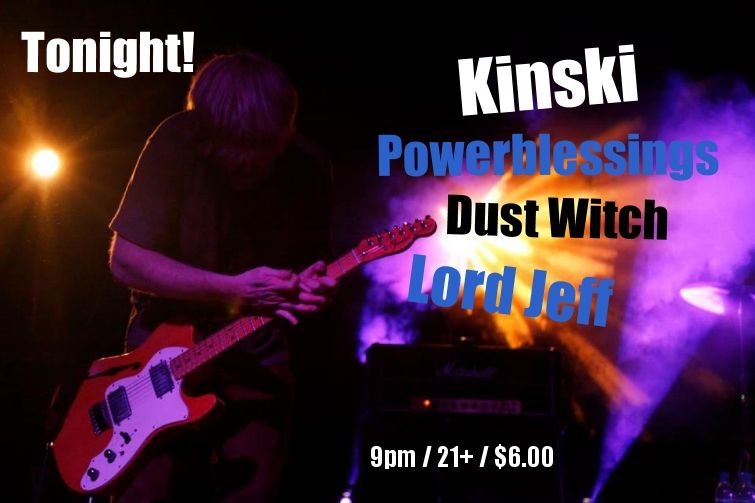 We have a real humdinger of a rock show going on tonight.
Kinski
will be in the house! (
THE
Kinski...) .. Joining them are three seriously awesome bands hailing from our local area:
Powerblessings, Lord Jeff & Dust Witch
....no joke. The music will be awesome from start to finish, so....Come party!!
Kinski
- a four-piece rock band from Seattle, WA. Their unique evocation of avant-rock is deconstructionist and heady, but also emotive and visceral. NME described Kinski as: "Like Sabbath in a washing machine during a power surge." Comprised of guitarists Chris Martin and Matthew Reid-Schwartz (Matthew also plays keyboards and flute), bassist Lucy Atkinson, and drummer Barrett Wilke, Kinski have toured with Mission of Burma, Comets on Fire, Oneida, Mono, Black Mountain, and opened a month of dates for Tool on their spring '07 tour. Most recently, the band has survived another Japanese tour with Acid Mothers Temple, and is back in Seattle working on a new record.
http://www.facebook.com/kinski.band
http://killrockstars.bandcamp.com/album/cosy-moments-2
Powerblessings
- pushers, pimps and ladies of the night of high school
http://www.facebook.com/powerblessings
Dust Witch
- New school, old school prog-rock from Western-Massachusetts
https://www.facebook.com/DustWitch
Lord Jeff
- psychedelic soul
http://www.lordjeff.com/
Listen to these bands. you'll love it. and oh yeah again, ...this show is going to be bonkers!!