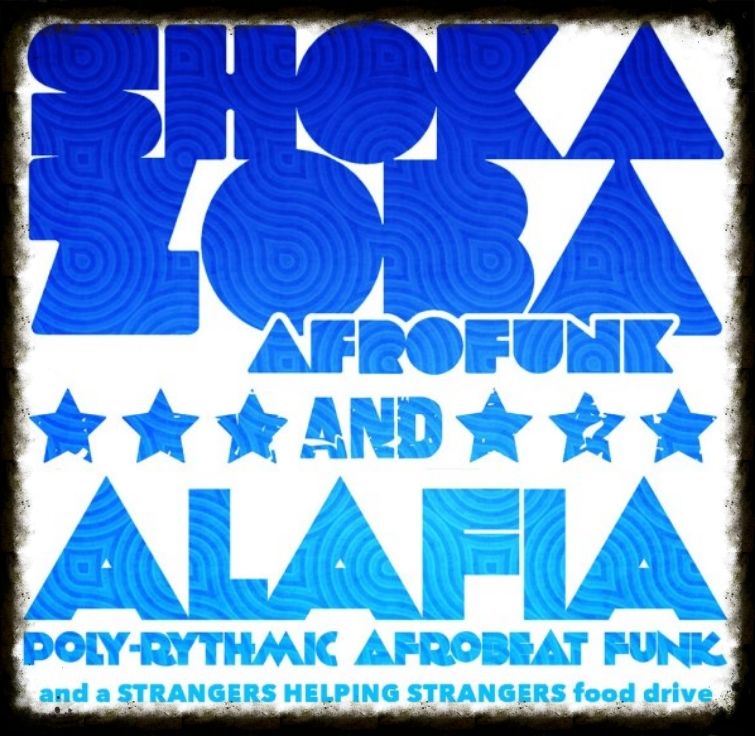 Shokazoba Afrofunk returns! -This time with Alafia Afrobeat. The two high energy bands will feed the dance party all night long. Come celebrate spring with us... and get Shokazoba's "Congress for Sale" album absolutely FREE!!
Strangers Helping Strangers
is in the house tonight as well, hosting a food drive for those in need in the community. Please bring a non-perishable food, toiletry, feminine/personal hygiene or baby product donation. Together we can make a difference - feeding the hungry one concert at a time.
http://www.facebook.com/SHStrangers
Alafia
is a salutation used in Africa to mean 'Peace and Fullness in Life'. In Cuba, where there are both musical and linguistic connections to the bands musical inspiration, the same term means 'Good Destiny'. Alafia is an 11 piece ensemble based out of Brattleboro, VT. The band features a strong horn section, fronted by three female singers. Their sound celebrates the traditions of Afrobeat and Afropop, playing covers of Fela Kuti as well as their own compositions. Their music weaves together Afrobeat, Funk, Jazz, Reggae and Soukous, creating an irresistible dance groove.
http://www.facebook.com/alafiaband
Shokazoba
features guitars, bass, keyboards, drums, horns, congas and more. The name of the music is Afro-beat, and no one in Western Massachusetts plays it better. At times both jazzy and funky, the noise defies definitive description. Many listeners, upon their first encounter with such an unusual beat, become entranced by the swirling rhythms and the conglomeration of instruments that creates them. Dance all night and absorb the energetic, conscious vibe Shokazoba delivers.
http://www.facebook.com/shokazoba?fref=ts
21+ // 9pm // $5.00