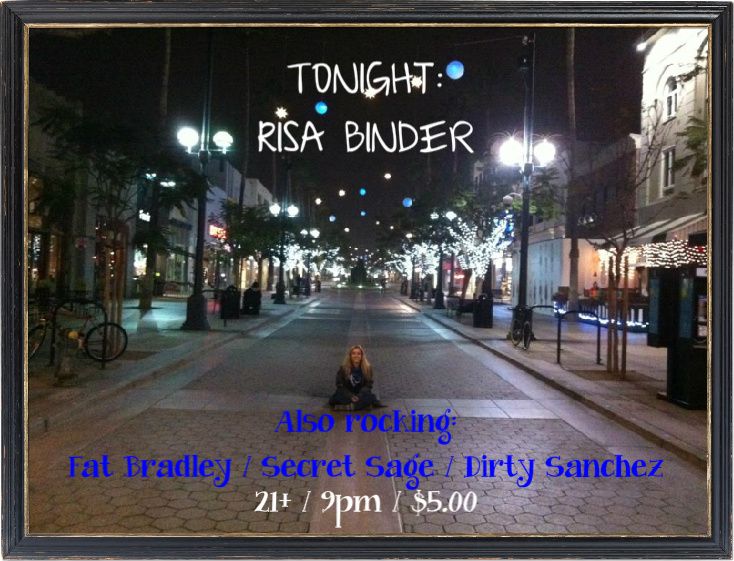 Tonight! Tonight! Tonight! A bit of everything, if you like funky sounds, Alt Country sounds, Pop, and/or folk sounds...all blended together to form a super-fun night of music with:
Risa Binder
(Brooklyn)
http://www.Risasmusic.com
"To Risa, anything can be a microphone, "I remember when I was growing up...I used to sing to the "Flashdance" album, in my family room, using an ear of corn as my mic" Now Risa is taking her music dreams and making them reality. An emerging singer/songwriter, Risa recently opened for James Taylor at Sunfest in West Palm Beach. Her song "All The While" won the Songwriters Hall of Fame New Writer Award. Her song "Falling Apart" can be heard in the movie "Queen Sized" on the Lifetime Channel. Currently Risa is going back and forth to Nashville writing, recording and working on her second EP."
Fat Bradley
http://www.facebook.com/FatBradley/app_178091127385
A 5 piece band that thrives in the melting pot of soul, jazz, rock and funk. Their mission is to get you up to get down.
Secret Sage
http://www.secretsage.org/
A fresh and earthy acoustic quartet from MA whose lively rhythmic tunes are sure to get your legs shakin'!
Dirty Sanchez
http://www.dirtysanchezuniverse.com/
Imagine if Phish, Zappa, and Pink Floyd had a three-way and the result was a lovechild, and that lovechild started dating Wilco and got pregnant but had to bring They Might Be Giants and Primus on the Maury show to find out who's the baby's daddy. Well, the kid picking his nose on the screen behind Maury would be Dirty Sanchez.
Buckle up for FUN!!!
21+ / 5 Bux / 9pm