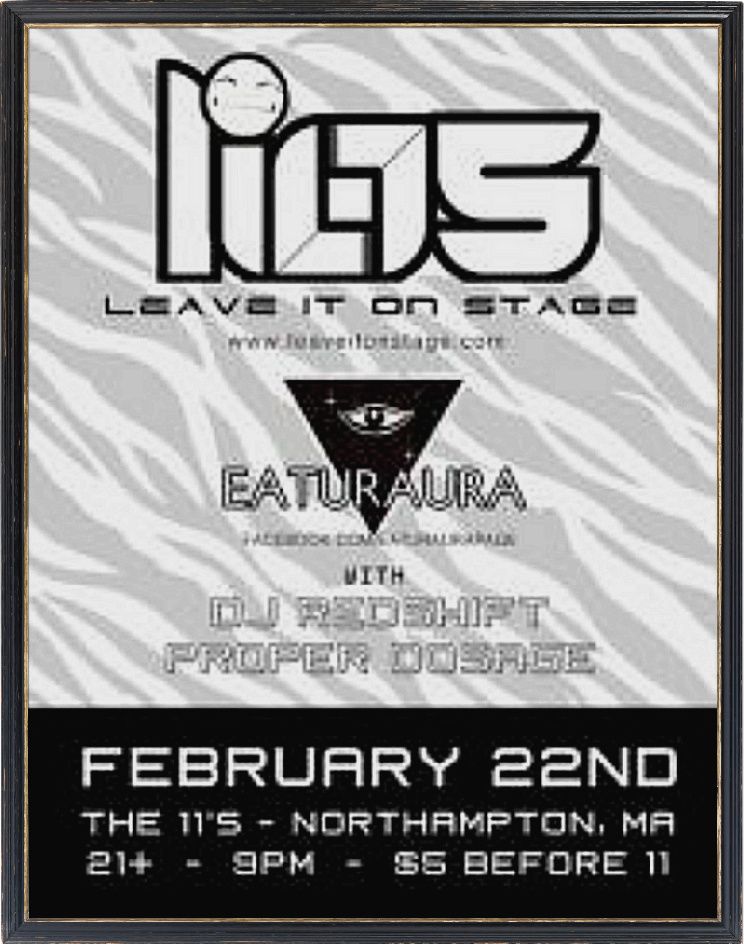 Come party tonight....with:
Leave It On Stage (LiOS)
Leave It On Stage is a trio from Boston, MA that specializes in live dance music performance through the use of instruments and synced electronics. From house to hip hop and many other bass pumping genres, Leave It On Stage (LiOS) promises a continuous arrangement of high energy electro and low end heavy funky hits and live remixes sprinkled with scattered original tracks. What sets LiOS apart from other modern live electronic acts is the use of DJ and producer techniques to create a genre bending sound that acts as a gateway for audiences to engage in a wider range of music.
http://leaveitonstage.com/
https://www.facebook.com/leaveitonstage
EatUrAura
A trio out of Northampton, MA improvising within an electronic dance music framework, developing a sound that is neither imitation nor a crude melting pot of styles; a sound that is uniquely their own.
https://www.facebook.com/EatUrAuraPage
Dj Redshift
Proper Dosage
SPECIAL GUEST MC: GABLE
21+ - 9pm - $5 before 11pm