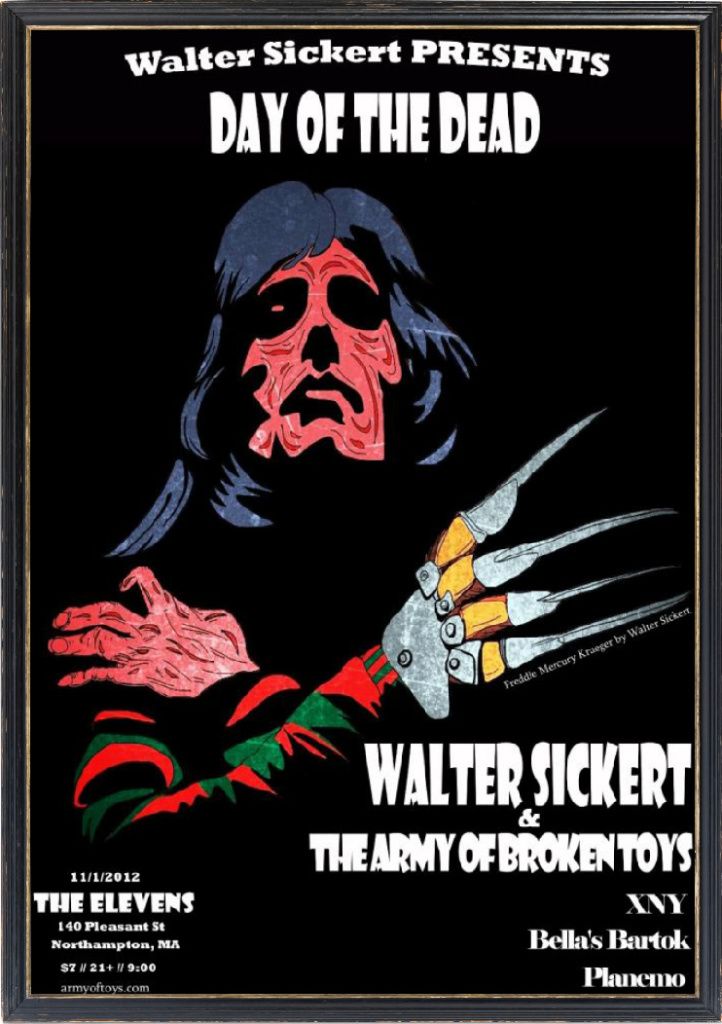 Tonight, oh whatta show we do have in store for yoy. Just come party with us, darn it.
Walter Sickert & The ARmy of BRoken TOYs
have been described as "Musically sophisticated and immensely talented, wildly unusual and diverse in material and presentation, a Dada-esque circus carnival run amuck, and just plain good 'not-always-so-clean' fun."
They've been named: Improper Bostonian - Act to Follow
Rock - n - Roll Rumble Semi-Finalist
WINNER Deli Magazine BEST OF
Boston Music Award LIVE ARTIST of the YEAR
Boston's Best Artist - Boston Phoenix Reader's Poll
http://armyoftoys.com/
XNY
(
http://xnymusic.com/
) Pam and Jacob met as next door neighbors in Boston, MA. After months of hearing each other practice through the wall, they came together and formed XNY. Now Brooklyn based, XNY breaks the boundaries of genres. They have managed to combine passion and simplicity into a sound that is both unique and palatable. XNY challenges experience and in return creates their own.
Bella's Bartok
(
http://bellasbartok.com/
) Deep from within the bloated bowels of the bohemian dance-punk scene (ha!), comes Bella's Bartok! A super-primo band bringing the desperate wail of the blues, the melodic timbre of a choir and the block-rocking beats of your favorite Hungarian dance hall. Seven piece, multi-instrumentalist groove-making extra-ordinaires from Northampton, MA. NEW VIDEO:
http://www.youtube.com/watch?v=oLGiboopctg
Planemo
(
http://planemomusic.bandcamp.com/
) Planemo was founded by guitarist Evan and bassist Steve, who met in the spring of 2011. The two wrote and collaborated together on the songs that would eventually make up the first EP, Broken & Bruised. And it's really awesome music!
$7 // 21+ // Show starts at 9:00