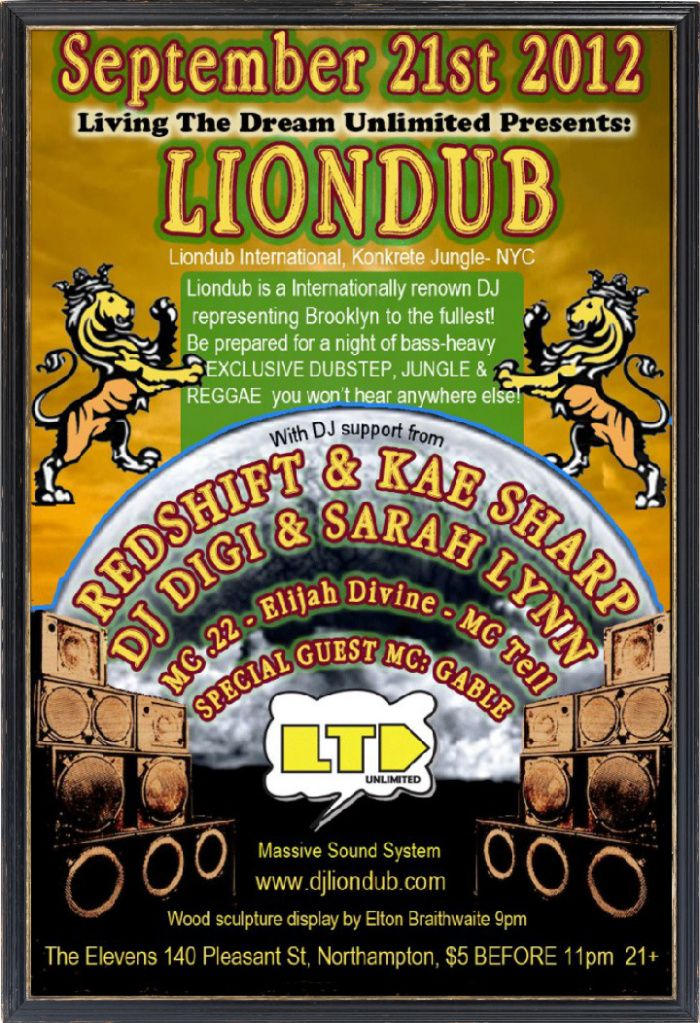 Tonight. LTD Unlimited presents: Fall Equinox with Liondub
LIONDUB
(Brooklyn, NYC) (Liondub International / Halcyon / Konkrete Jungle / Breakbeat Science - BROOKLYN)
DJ Liondub comes correct. An authentic product of Brooklyn, his musical mindset was formed at the crossroads of major international bass vibrations originating from Jamaica, NYC and the UK. Inspired by the global rhythm culture emanating from the streets beneath his feet, Liondub has spent a lifetime pounding that very pavement in pursuit of his passion for bottom-heavy beats....Liondub brings a current arsenal of jungle/dubstep & reggae dubplate specials, His performances are soulful, diverse and explosive.
Also featuring DJ's
REDSHIFT VS KAE SHARP
DJ DIGI
SARAH LYNN
Special Beatbox Performance by
GABLE
On the mic:
ELIJAH DIVINE
//
TELL MC
//
MC.22
Wood sculpture display by
ELTON BRAITHWAITE
at 9pm in the side room, along with a carving demonstration.
21+ // $5 (before 11pm) // 9:30pm
But, before all this magic happens...you will laugh your ass off with:
ZACK LIVINGSTON PRESENTS:
MASS LAUGHS, THE COMEDY BUFFET
Featuring:
Darryl Rosemond
Noelle Gray
Garry Smith
Aaron Kaplan
Served by
Zack Livingston
Doors @ 7:00 // 21+ // $12 at the door ($10 in advance)
See ya!!