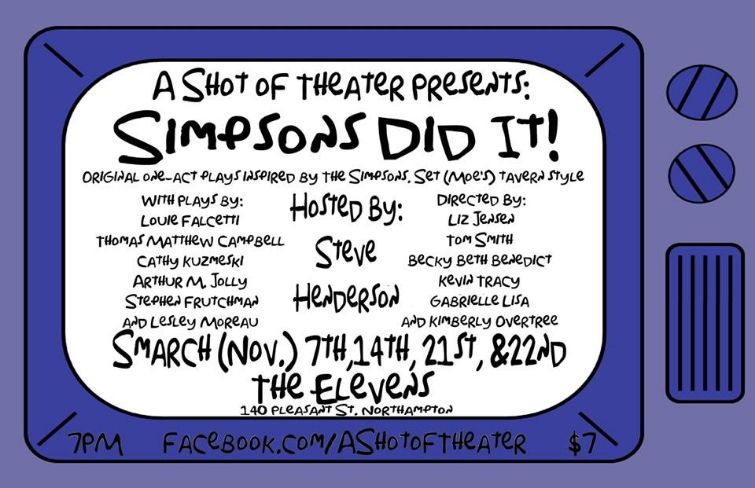 Folks...Tonight: It's your last chance to enjoy this round of A Shot Of Theater!! Make the plans. Dress nice, and come early, grab a seat, order a cold drink or two and relax as actors from the valley perform clever, funny, and thought-provoking one act plays written and directed by great minds, also from the valley. It is a great time! Get here early and enjoy, as A Shot of Theater Presents: The Simpsons Did It!
"Citizens and Friends of Springfield! Join us for our fourth evening of original one-act plays performed at The Elevens of Northampton!
An evening of theater, food, drinks, laughs, cheers, and NO boo-rns!
Come out and witness our tribute to the most fanatic television show ever created as you are entertained by six short plays that were all inspired by the wit and wisdom of The Simpsons!
If you would like to reserve a table for 2-4 people for any of the performances at just $5 + admission, then please email us your name, the number of people in your group, and the date you wish to attend to AShotofTheater@yahoo.com.
People of Shelbyville need not attend!
Hosted By: Steve Henderson
With Plays By:
Louie Falcetti
Thomas Matthew Campbell
Cathy Kuzmeski
Arthur M. Jolly
Stephen Frutchman
and Lesley Moreau
And Directed by:
Liz Jensen
Tom Smith
Becky-Beth Benedict
Kevin Tracy
Gabrielle Lisa
and Kimberly Overtree"
21+ / $7 / 6:30pm
WHOO-HOO!!!!