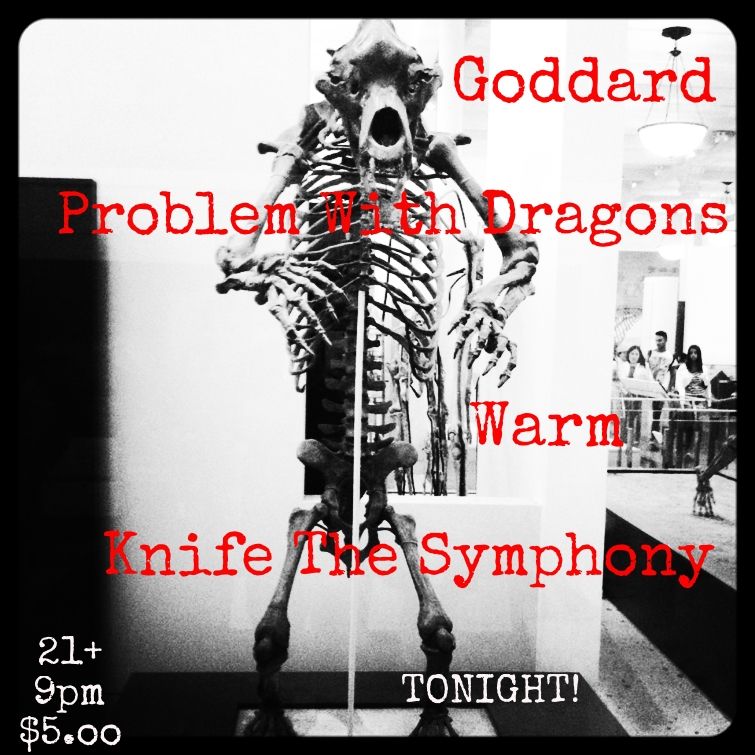 How bout this?? ..you come in here tonight and get yer face melted by these sick-ass bands!!
Goddard
- Mathy noise rock with a dual vocal attack turned up all the way.
http://goddard.bandcamp.com/
Problem With Dragons
- The valley's own sludge rock heroes kick you in the teeth. Guitars that blast you off into the sludge rock stratosphere!
http://problemwithdragons.bandcamp.com/
Warm
- Connecticut's Warm are one of the most amazing live bands around. Tightly woven guitar parts criss-cross through a swamp of bass guitar and staccato drum brilliance.
http://warm.bandcamp.com/
Knife the Symphony
- Knife the Symphony completely crush in the best ways possible: loud, pummeling drums that propel angular guitar and bass rhythms over knife wounds screams. On tour from Cincinnati and absolutely not to be missed!
http://knifethesymphony.bandcamp.com/album/knife-the-symphony-swear-jar-split
21+ // 9pm // $5.oo