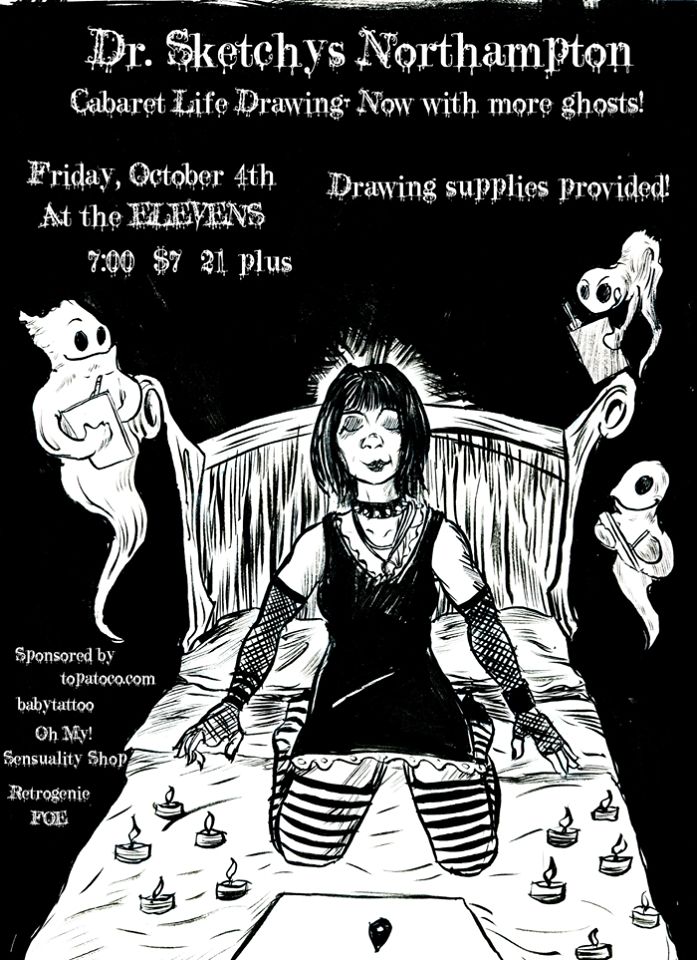 Hey folks! Tonight is an action-packed type of night where you get to: sketch! Enjoy cold beverages! Hang out with friends! Listen to music! YAY! Details:
"Start off the Halloween season with a saucy drinking and drawing night, as model and witch Angie Toxica demonstrates her renowned ghost summoning abilities to return an old favorite model, Liz J, for you to draw! But will communicating with the realm of the dead! have unexpected but somehow naughty consequences? Will her and the ghost be amazingly fun to draw? Will we make way too many jokes about 1996's The Craft?
The answer to all those is yeah, probably, so come to The Elevens on Friday, October fourth! With a full bar, food service, two models, and prizes from Topatoco, Babytattoo, FOE, Oh My! Sensuality Shop, and more, you can expect a great time from Northampton's favorite burlesque drawing class!
Angie Toxica
as the telephone to the dead!
Liz Jensen
as a spooky ghost with bad intentions! Stage design and hosting by
Fifi Fleshette
! Music and further hosting by
Clyde Dale
!
Art supplies provided!
Doors at 7
, models take the stage at 7:30
$7 entry fee
to cover the cost of ectoplasm cleanup and poltergeist traps.
21 plus
."
Then...stick around for
Dan & George
rocking stuff live and in
Purity Supreme
grand style! Yeah....you know what we be sayin'!! Get ready to
play
some funky music!
cheers!