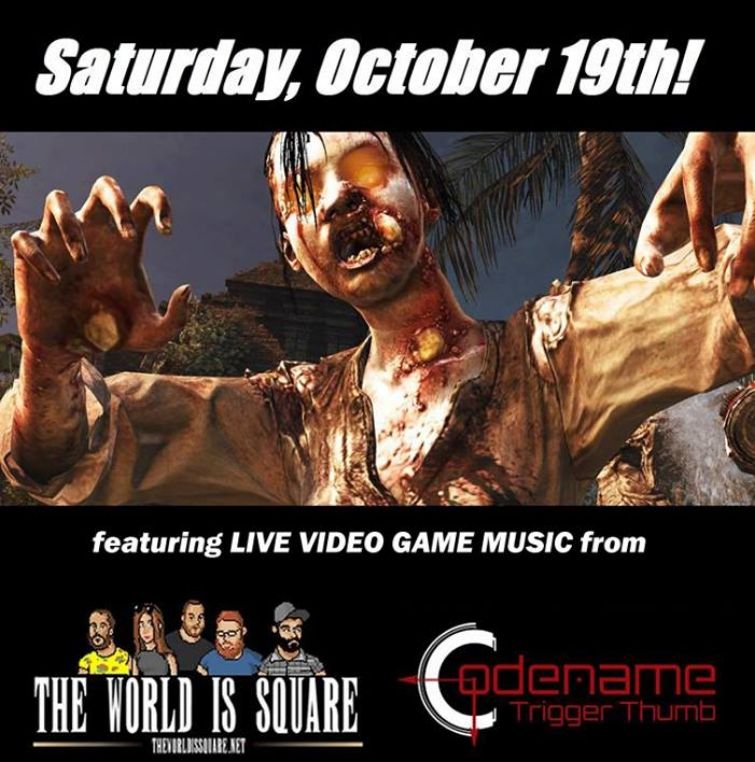 Tonight!! From 7-9pm...music for ZOMBIES!! Performed by ZOMBIES!! (who, even though they are the un-dead, can still perform their masterful/epic music. --And we ain't playin'...the music is SIIICk!)
The World is Square
, (from Boston, 7 PM)- "The World is Square is a 5 Piece Video Game Tribute Band from Boston, MA; focusing on the Classic Years of SquareSoft/Enix Games. They perform songs from titles like Final Fantasy VII, and Chrono Trigger, using a variety of traditional, unconventional and modern instruments."
www.theworldissquare.bandcamp.com
www.youtube.com/theworldissquareband
Codename Trigger Thumb
, (from MA/CT, 8 PM) - "It is the end of days. Governments have shut down all video game devices and have been issued orders by the president to destroy any remaining games, both past and present. Gaming as the world once knew it will cease to exist. Violence in gaming has led to outrage amongst parents and adults.
A small coalition has formed in the wake of the attack on gaming. Calling themselves "Trigger Thumb," the faction of four begin an underground movement to attack the government and reclaim all forms of video gaming once again.
Managing to hack into a top secret government database, Trigger Thumb uncovers a secret project titled "Code". Code is a female cyborg who has every video game in existence uploaded into her database. Whether the government intends to use Code for good or evil remains a mystery, but Trigger Thumb realizes that Code is their only chance of restoring gaming to the world once again.
Code has been locked away in a tomb underneath Point Nemo in the South Pacific. It is said that only the "8 beautiful melodies of gaming" can open the tomb and free Code from her prison. As Trigger Thumb begin to discover more and more clues to these melodies, they travel to Point Nemo to perform them, in hopes that Code may be free, and gaming will be restored to the world once again."
http://www.codenametriggerthumb.com
http://www.codenametriggerthumb.bandcamp.com
FREE admission for ZOMBIES (with proper ID) / $5.00 for the "still-living" / 21" / doors @ 6:45