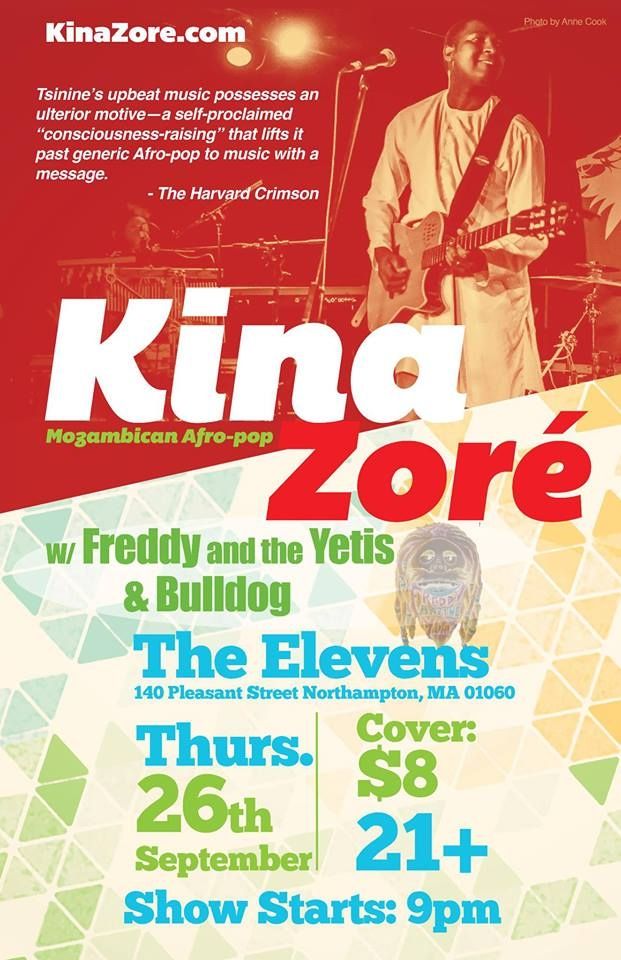 Hey folks...sweet music tonight. With:
"
Kina Zoré
- Triumphant horns, uplifting vocals, and swirling polyrhythms make Kina Zoré a force of hypnotic beauty. Fronted by soft-spoken and charismatic Mozambican songwriter Helder Tsinine, the six-piece powerhouse commands the dance floor with earthy-yet-electric African rhythms that echo from Helder's hometown of Maputo, Mozambique. Since winning the 2011 Peacedriven Songwriting Contest and 2012 John Lennon Songwriting Contest, Kina Zoré has attracted international attention, including features on BBC Africa, the Christian Science Monitor, and the Agência Angola Press. With fans flocking to dance floors across the Northeast, it should come as no surprise that the name "Kina Zoré" itself is a call to dance."
http://www.kinazore.com
Freddy & the Yetis
- Having formed for (Frederick) Aidan Pagnani's final college music performance at Hampshire College, Freddy & the Yetis built excitement in the Pioneer Valley area. After spending a year composing music, the band has created originals that encompass funk influenced hip-hop, jazz influenced reggae, party-time influenced electronic, and even classical influenced rock. They represent multiple genres throughout a performance, and strive for musical tightness to develop original pockets of sound that get the people dancing. Yetis have been known to cover songs from the catalogs of Frank Zappa, Chic, Led Zeppelin, Grateful Dead, Black Sabbath, Bob Marley, and even N.W.A, leaving a unique spin on each song. Saxophone, melodic vocals, and rap decorate the detailed song arrangements while the quartet of bass, guitar, keys, and drums prepare for long improvisations, taking the energy of the room to undiscovered places. Drawing band members from Kids on a Hill, The Raft, Wolfman's Conspiracy, and FIG and a Little Inappropriate, Freddy and the Yetis are gearing up for another slamming season of seasoned pleasin'."
https://www.facebook.com/pages/Freddy-The-Yetis/116518588419648
Bulldog
-
So fresh, so true...you'll need to be here for the magic
!
21+ / 9pm / $8.00