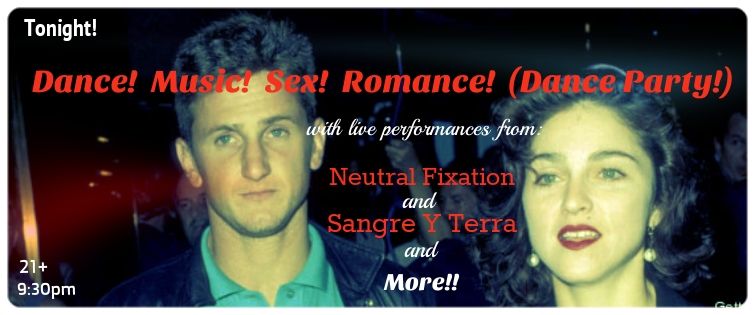 Tonight, we dance....and, oh yeah,
Dance! Music! Sex! Romance!
used to throw some crazy dance parties in the recent past --and they're back!! Tonight is their "nothing lasts forever edition" --Yep. Come here and party, tonight!
"
DJ Mistress Fleshette
and
DJ Ames Woods
were once married. Now they are not. Basically. But that shit costs money to consummate. They need your sweaty, writhing torsos jerking back and forth on the dance floor, and also your hard-earned wallet butter.
Come shove their marriage off this mortal coil and you will find a raffle with horrifying prizes, TBA bands (including the monstrous Sangre Y Tierra, and fabulous Neutral Fixation), and of course, plenty of hard funk, sleazy electro, and brutal hip-hop to wrap your bodies around."
See ya!
21+ / 9:30pm