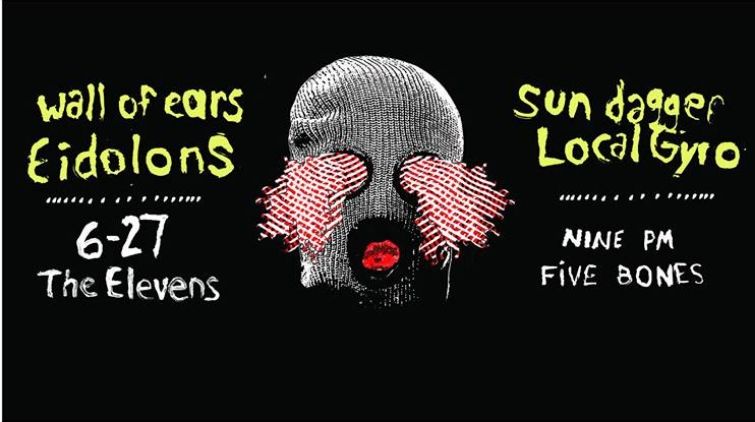 Damn cool show tonight homies....DAMN cool. Come on over and enjoy some music...
Come get strange with a night of psych/freak flavored music! Five MFA bands will be laying sonic eggs, "Wall Of Ears" and "Sun Dagger". Joined by Local Gyro and Save Me John Stockton, (from Northampton and Amherst, respectively), and also Eidolons, from Oregon!! LO! Great and powerful music awaits thee!!! (
seriously
....if you click the links and listen you will hear some f*cking awesome music...don't be lame. Click those links!!) --and then come get some live action TO-Nite!! Rite Here!!
THE LINEUP:
Wall of Ears
(surrealist noise pop from Louisiana)-
https://www.facebook.com/WallOfEars
Sun Dagger
(ear busting loose abstract rockers from New Haven)-
https://www.facebook.com/SunDagger
Eidolons
(guitar psych-rock mind benders from Portland) -
https://www.facebook.com/SunDagger
Local Gyro
(Lysergic dance weirdo party music from here) -
https://www.facebook.com/LocalGyro?fref=ts
Save Me John Stockton
- (Rock n Roll with a side of fundamentally strong basketball, hailing from Amherst) -
https://www.facebook.com/pages/Save-Me-John-Stockton/401668523233319?fref=ts
(This will be the record release for Wall of Ear's debut album, Perfect Organ Assembly, on vinyl and cd. Not to be missed!)
21+ / 9pm / $5.00