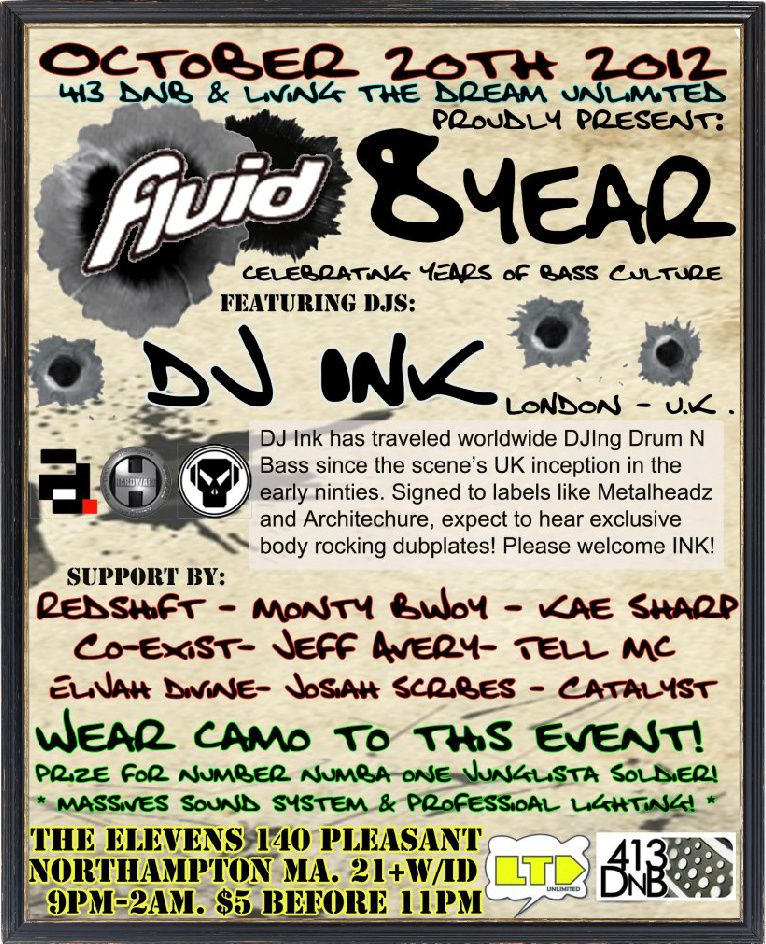 Hey-O!! Watch out for Zombies tonight....and, watch some awesome entertainment right here. Going on all damn night!! Starting with:
Viking Moses
- "... Brendon Massei. Massei, who plays music under the name Viking Moses, has been recording and touring independently as a full-time job since he was 14, and he's spent more than half of his life paving trails for other musicians to follow. Artists that Massei took on their first tours include: Deer Tick, Scout Niblett and Nat Baldwin of the Dirty Projectors." - MTV
http://vikingmoses.bandcamp.com/
Tongue Oven
- "...some of the most haunting and affecting sounds to come whistling out of the Valley in years." - Valley Advocate
Assateague
- This San Francisco-based band delivers laid-back and haunting arrangements.
http://assateague.bandcamp.com/
THEN...We are very happy to be celebrating the 8th year of LTD Unlimited Drum n Bass events here at THE ELEVENS! In this spirit LTD Unlimited brings you a VERY SPECIAL guest:
DJ INK
(UNITED KINGDOM)
Biography:
Its 1990 and a young Dj Ink has solidified his love for hip hop musical culture. As the years move on so does UK street music. There are new genres forming and Ink begins to hear what is familiar to him, but there is also a new twist -it is the UK passing by the USA with a huge dose of African and Jamaican influence. Of course this is music to a budding DJ Ink's ears and he naturally becomes involved. It doesn't take too long before he begins to make his mark..
First begins the Pirate Radio Circuit, working hard at his craft, allowing the followers to get familiar with the roll. Steadily, bookings began to build up and soon it would be time for Ink to become associated with three names that changed the landscape of British electronic: Basement Records, Metalheadz and Renegade Hardware.
If you're familiar with drum n bass/jungle you'll know instantly the weight these labels carry, and if you are not, by just scratching the surface you'll become aware of the work they have done. Hardware, and Metalheadz are two commitments Dj Ink has upheld to this day, through thick and thin.
Essential work includes "The 50th (Blueprint)"on Basement Records, 'Feel da heat' taken from the LP 'Can u draw sound?' on Architecture Recordings, 'Kaos Theory Ep' on Renegade Hardware, 'Shine' on Metalheadz, and the now infamous posse cut 'Instinct' Also on Architecture. And this is just a small fraction of work by Ink that has made waves...
ALSO FEATURING DJs & MCs:
DJ REDSHIFT
MONTY BWOY
KAE SHARP
CO-EXIST
JEFF AVERY
ELIJAH DIVINE
TELL MC
JOSIAH SCRIBES
MORE SPECIAL GUESTS TBA
$5 BEFORE 11PM, 21+, 9PM-1:30AM