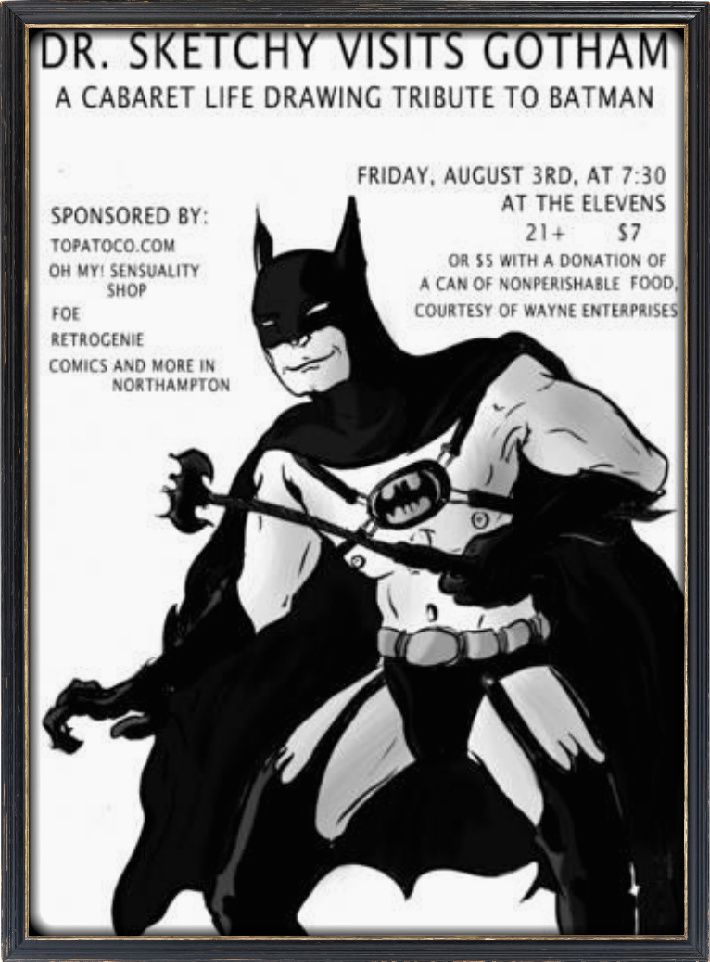 First Friday's are always great here at The Elevens. Why is that you ask? Well, first, you get Dr. Sketchy's, an event where you get to sketch scantily-clad, sexy models, then you get Electric Avenue, the hottest dance party around. See?? Both events are: fun, enlightening, fun, cool, thought-provoking, fun, use-both-sides-of-the-brain-type-of-night, lose-the-ability-to-think-type-of-night, fun...fun.....FUN. See below...
Dr. Sketchy's Northampton
(
http://www.facebook.com/drsketchynorthampton
) is taking you on a field trip to Gotham City, home of psychotic clowns, Riddlers, scarecrows, and masked men to deal with it all! We also have all sorts of prizes and contests- everything you can expect from your monthly burlesque life drawing session!
Doors open at 7 and models take the stage at 7:30 SHARP, so be there with your drawing supplies!
$7 Cover 21+
Then, after sketching your mind and hearts desire, the
Electric Avenue
, I Can't Believe It's August Already dance party starts swingin'. Yep. As we've established here: Fun....fun...fun!!
YOU KNOW!
Purity Supreme's strictly 80s dance night.... new vids!
Also, George is gonna be back this time, it's gonna be rad!
It always is!
$1 cover 21+
Directly following Dr. Sketchy's.
YEAH!