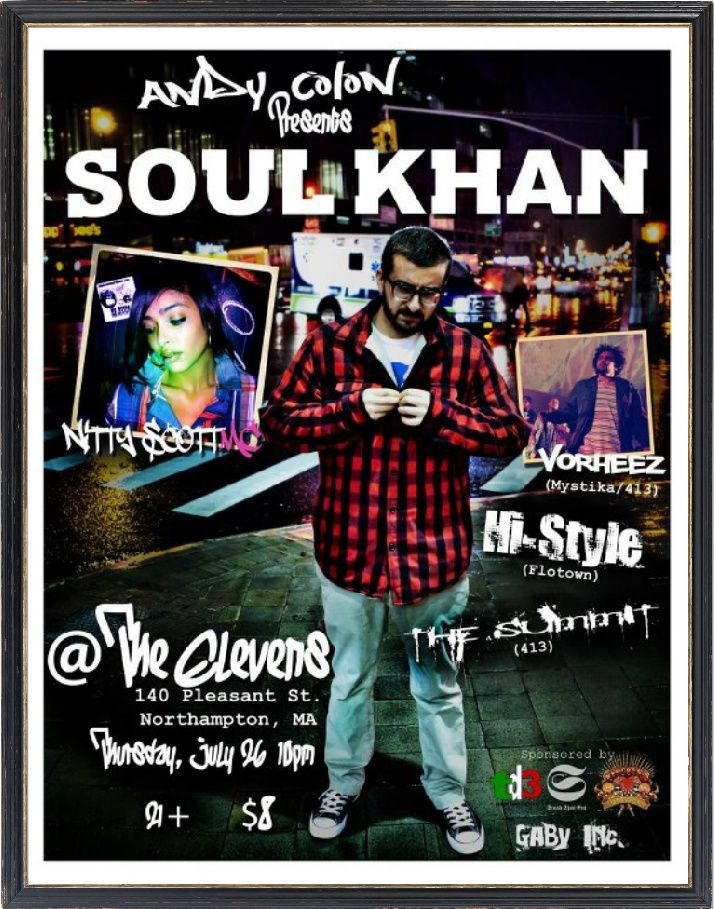 Tonight, Andy Colon Presents:
SOUL KHAN
!!
"Soul Khan's distinctive booming voice and personality break the stereotypical mold of an MC. He started rapping during his junior high school years and dabbled in the underground rap battles. It wasn't until November 2008 when Soul Khan started taking his rap career seriously. He moved to Brooklyn, NY, got a job at the world renowned Fat Beats and formed the underground hip hop collective Brown Bag Allstars with his co-workers.
From 2008 to 2010, Soul Khan amassed a large fan following as he quickly become one of the best battle rappers in the battle league circuits. His battles have amassed a cumulative total of over 6 million combined views on YouTube. During late 2010, Soul Khan retired from battling and focused all his energy on making music.
Since November 2010, Soul Khan has released a free album, Soul Like Khan and four EPs (Acknowledgement, Resolution, Pursuance, & Wellstone). In this short time, he has been featured on media outlets such as MTV, MTV2, BET.com, Complex, Fader, AOL, 2Dopeboyz, Gobal Grind, Allhiphop.com, The Source, XXL, & Okayplayer.
To date, Soul Khan has performed in the United Kingdom, SXSW, the Warped Tour, CMJ Music Festival, A3C Hip Hop Festival, Fun Fun Fun Festival, and NACA music festivals.
It used to be that thousands of new fans discovered Soul Khan every day from his entertaining MC battles. Now fans are discovering him by the music he continues to create."
http://soulkhan.com/music/
Tonight, Soul Khan is joined by some top talent from our own talent-packed backyard:
Vorheez
soundcloud.com/mystikamusic
The Summit
.
http://summit413.tumblr.com/
AND..
Hi Style
This show is going to be EPIC!...one to remember for sure. Come to it...
21 + // $8.oo // 9pm