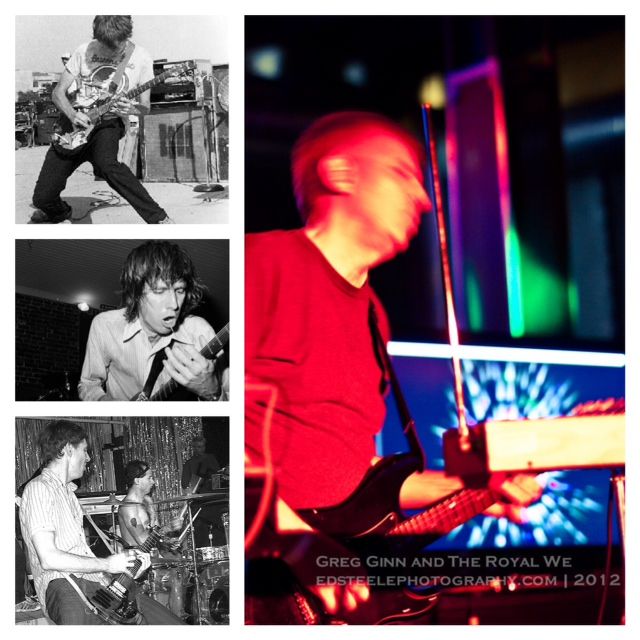 "There are several books out on punk history, but I haven't read any of them. I was there."
"There aren't enough people who are scaring the kind of people who work at these record companies."
"I didn't want to wait around for some business entity to come around and give me money and tell me what to do. We just started releasing records as best we could."
"Most good things happen with time; especially music, which needs time to breathe and to find its own way."
Greg Ginn
, founder of
Black Flag
,
SST Records
and more, a personal "hero" to myself and many others, a true inspiration through his life and actions: PERFORMS HERE TONIGHT!!
Greg Ginn and The Royal We
--a new incarnation of Greg Ginn's soul-- will be available to you tonight,
LIVE
!! We are truly honored to host him tonight, along with Cinema, Cinema as they blaze their ways across the country on tour....just like the "old" days. Read below for more knowledge...cheers!!
http://www.facebook.com/gregginnroyalwe
Show tonight is: $8.00 at the door / 21+ / 9:00pm
"I try to play what I would like to hear", Greg Ginn explains the electronica sound of his latest project, The Royal We. "If it feels good to me then there's other people that might enjoy it. Everybody isn't in the same place at the same time."
Greg Ginn is an innovator. "I like a lot of hybrid bands. Different trance, electronica, and a lot of House. Most of that music doesn't have guitar. And that's had a lot of impact on my guitar."
Greg Ginn and The Royal We's We Are Amused is set for release on November 8th, 2011 on SST Records.
Greg has been making music professionally, successfully, but not always publicly, for over 3 decades. "I became less excited about what was happening in rock in the 90's and 2000's. There are rock bands I like, but I like wilder stuff."
"Skrillex. I like him a lot." Greg describes the evolution of electronic music from techno forward. He has appreciation for all if it, from Jumpstyle to Dubstep. Among the acts he likes, he names some of the more intense and less commercially successful artists: Lotus, The Glitch Mob, Signal Path, and most notably The String Cheese Incident. "There's a specific commonality there regarding inventive creators moving on, leaving a past experiment and progressing forward to something new without trying to meld one project into the next."
For the last three and half years Greg Ginn has been breaking ground and experimenting with his own brand of electronica, combining his ear for jazz, his sensibilities to truly crafted-work, and his thorough acceptance of noise. The Royal We is his one man band and show. It's something new, for new people.
The freedom of writing and recording alone means round the clock hours for Greg's creative process to flow. "Other people's schedules don't interfere. I can play anytime." Greg explains that this limitless schedule has been conducive for him. "I'm recording all the time. I have a lot of unreleased stuff."
Greg is well known for his guitar work and has often played his own bass lines in his recordings. Not surprisingly, he does so here in a very electronic format along with some other instruments that might surprise you. Greg plays the theremin, a device that goes back to the 1920's. "It's an instrument that you've heard many times but probably didn't know its name. It sounds like a futuristic harp, and looks like you might have found it on the Starship Enterprise. It's the most primitive electronic instrument. It's an oscillator. You control the frequency with your hand."
A 40 inch LED monitor screen is perched on top of the equipment on stage, displaying perfectly synced video of Charlie Chaplin and silent film cuts. The videos were meticulously crafted by engineer and drummer Mike Shear. Every live song has its own video for a total of 2 hours worth of streaming symbiotic sensory ambiance.
Among the new recordings is an outstanding piece called Eavesdrop. Remove all constraints of the expected and accepted that has tamed your ears and remember what it's like to be new again. This is the sound of Steampunk: it hasn't been invented yet, it is still being dreamed. It's a glimpse of the future through someone else's imagination. It is impossible to listen to this hypnotic pulsating innovation without bouncing your head along involuntarily in universal agreement.
Laundering Reality presents another soulful beat incessantly tickled by the theremin, made to do things we didn't know it could. Somehow this song's intoxicating groove reintroduces itself to you almost our minutes in, all over again, despite a repetitive essence. It remains as familiar as it is surprising.
Baiting, Refuge, and Gilded Entry all make you stop and question, absorb, and then ultimately click repeat again and again. These are powerful instrumentals. One of the best parts about a completely unique sound is that every time you hear it, you're free to misinterpret it again and again. What is it you're hearing? A slightly Chinese sounding melody? Am alien instrument? A King Crimson inspired lick, a Phillip Glass meter that was too perfect for the Photographer, The Dust Brothers playing Deadmau5 backwards, a classic Chick Corea moment? Yes. No. Just play it again, please. And all of it electric, and bouncing, and fresh.
By the way, if you think you've heard the words Greg Ginn and Innovator in the same breath before, you're right. In 1976, at 22 years old, Greg Ginn founded a band that changed the way music would be perceived, forever. As the principle songwriter, guitarist and unequivocal mastermind behind Black Flag, Greg Ginn taught us that music is subjective, inspired, and ever evolving.
And 35 years later we are re-learning that lesson all over again.