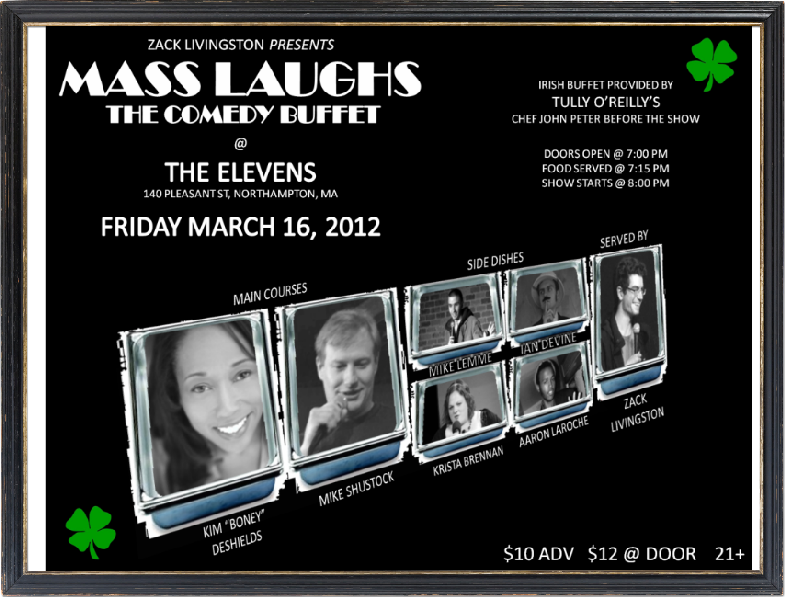 It's time once again, to laugh! The pre-St. Patty's day liver-conditioning shall commence in style with: Zack Livingston Presents, Mass Laughs, The Comedy Buffet. Featuring:
-Kim "Boney" DeShields
: As seen on Nickelodeon's Americas Funniest Mom's. Kim is sure to answer all of your questions on family, relationships, sex, and you name it.
-Mike Shustock
: Mike's life experiences are so funny is has been reported that J. Peterman wants his contact information. Mike has performed all over the Northeast and opened for Pablo Francisco at the Wilbur Theatre in Boston.
With side dishes:
-Mike Lemme
: Mike is currently enrolled at Stonehill College. He just finished up his internship at Conan O'Brien Presents: Team Coco and also had an internship last year for Late Night with Jimmy Fallon. Enough said.
-Krista "Bitzy" Brennan
: Krista is currently battling in the semi-finals for New England's Funniest Comic at Mohegan Sun. What else can I say, she is one funny woman.
-Aaron LaRoche
: Aaron is as smooth as they come. Not only does he have intellectual observations years beyond his age, his unique spin makes them funny as hell. Aaron also co-founded the local sketch troupe called Half a Girl and considers himself a poet and a lover.
-Ian Devine
: Ian is an up and coming comedian who combines wit and sarcasm then wraps it with his signature deadpan delivery. He has studied comedy at Second City, following the same footsteps as many of the original cast members from SNL. And not to be outdone, Ian is also a co-founder of Half a Girl.
Served by:
-Zack Livingston
: Unfortunately, Zack is not a doctor.
7:00- Doors open
7:15- Irish Buffet prepared by Tully O'Reilly's own John Peter
8:00- Showtime
Tickets: $10 in advance or $12 at the door (Irish Buffet included)
Facebook:
http://www.facebook.com/events/275903539149439/?ref=ts
THEN:
AMAZING LOVE
.
Amazing Love is a crew of hot DJ's who throw a hot Dance Party that you already know about. If you don't know about it, sorry.
Get yer ass to the club and see if you can keep up....
Dance
DAnce
dAnCe
DANCE
daNCe!!!
Cheers
10pm // 21+ // $1.00 Cover