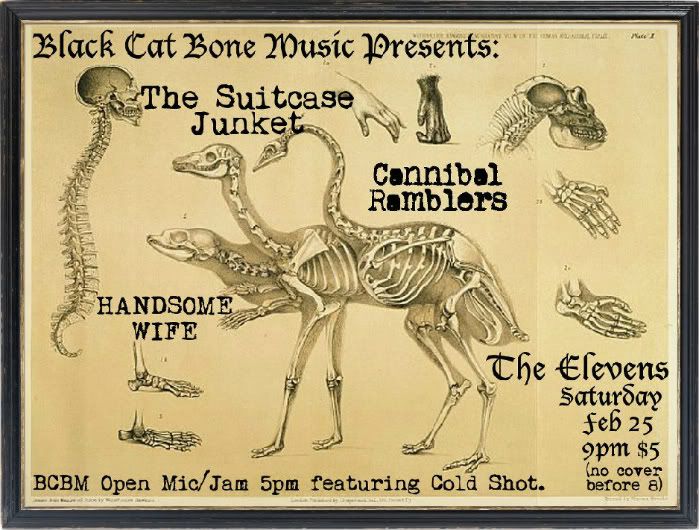 Oh yeah, we got the blues...tonight!!
Black Cat Bone Music
is proud to present the "Deep" Blues showcase. With music masterfully delivered by Handsome Wife, The Cannibal Ramblers and The Suitcase Junket! But wait, there's more. Black Cat Bone Music has been kind enough to bring their open mic/blues jam, featuring live blues band
Cold Shot
, to the club as well!! It's gonna be a great night of the deepest, dirtiest blues...so buckle up and enjoy!!
Handsome Wife
-- Hailing from Boston, and garnering a veritable "shit-ton" of national attention, many consider them to be THE next big thing to emerge from New England --blues music-wise. Their sound? Deep, dusty blues...
http://handsomewife.com/home.cfm
The Cannibal Ramblers
-- Straight to Noho from Rhode Island! Their densely textured, highly rhythmic music with strong narrative content, and ragged like a rusty knife, will make you feel like driving your car down a winding mountain road, with the brake lines cut! That's the zone they live in,
and
what they deliver to you.
http://cannibalramblers.com/
The Suitcase Junket
-- A throat-singing, slide-guitar playing, whistling one-man-band with a suitcase bass-drum, gas-can-baby-shoe beater and a hi-hat. Playing a dumpster-diamond guitar.
http://www.thesuitcasejunket.com/
Whew...and don't forget the Blues Jam!! We got Cold Shot to guide you...
Cold Shot
(Facebook):
http://www.facebook.com/ColdShot1
Black Cat Bone Music
(Facebook):
http://www.facebook.com/BCBM413
Ok.
Blues Jam/Open Mic (with food!!): 5-9pm (free before 8:00)
Deep Blues Music begins around 9:30-10!
$5.00 cover after 8pm
21+ event
Cheers!