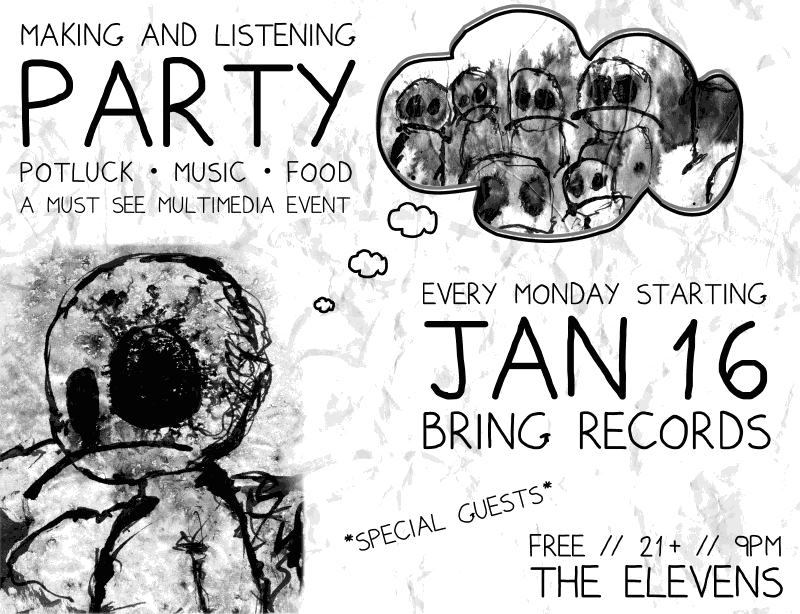 Hi everyone.
This Monday, January 16th, launches a new evening of multimedia at The Elevens.
The evenings will be named "Potluck," as they are in many ways, a potluck.
The first of these nights will play host to an electronic open mic featuring Jazer Giles, Gabriel Sullivan, Sylphid, and many other local artists as this is an open mic geared towards electronic and "other" music. So translate however you like, and "bring it if you got it".
Tonight's show will also feature a special performance by Raub Roy (Hora Flora) from his digs in California, brought to you via Bambuser. Those of you who can't make it out to the show can look for the live feed he will be posting on facebook. Doors are at 9 and it's a free show --with food!...feel free to bring a dish.
When we are out of performers for the open mic, a "listening party" will begin...Everyone is invited to bring vinyl they want to share. We'll have one open turntable on stage intended to nurture a living room vibe to relax in....Just hanging out, listening to records, eating, dancing, meeting. Whatever...
Sounds pretty cool right?
Going forward, Potluck Mondays will alternate intricacies and, just so you are aware, the second Potluck will be
January 23rd
. It will feature similar elements. Food, dancing, meeting, etc. But will be a little different this time....It's an evening of improvised music to film. Yes! Open to any and all musicians, or non-musician :)
You are invited to bring short pieces of film which we as a community can view and live score with music. Once again, a listening party will be part of our evening towards the end.
guess that's all for now...
We look forward to seeing you there.
Facebook:
http://www.facebook.com/events/305867346126446/